Profiles

Todd Wilson - President
Term expires April 2025
Todd is serving his second term on the R-III Board.
"I chose to seek re-election to the Board not because what is wrong with the district but because what is right with it. The last few years have brought more challenges than we could have ever imagined. I desire to be a part of a team making a difference in our children's lives. Being born and raised here in Pleasant Hill, I bleed purple and gold. I want to keep the district moving in a positive direction. There have been difficult decisions along the way but if we keep the best interest of our students in mind, provide resources to our educators, and remaining fiscally responsible to our constituents we can continue the tradition of excellence in our community."
Wilson is married to his wife, Nici. They have two children, Tyne and Truman and both are currently a student in the District. Both he and his wife are members of the Booster Club and Wilson has been the Voice of the Roosters Football as announcer for the Varsity Football Team for the past 19 years. He is the owner / agent of TC Wilson Insurance Group. His leisure time consists of their kids and their activities which consists of coaching sports and their kids are very active in the livestock showing industry. They spend most of their weekends in the Spring and Summer traveling to livestock shows across the state and country.
---
Lori Redwine

- Vice President


Term expires April 2023
Lori is serving her third term on the R-III Board.
"Helping make decisions that positively impact the lives of our children to make them successful."
PHHS Alumni, Redwine is the current Board Vice President and is employed at Truman Medical Center as a sonographer. She and her husband, Clint have three children, Lauren, Alexandria and Zachary. Her leisure time consists of reading, socializing with friends and attending her kids' activities.
---
David Adamczyk

, Treasurer


Term expires April 2023
David is serving his fifth term on the R-III Board.
"Living in Pleasant Hill for 33 years has given me a need to give back. Our school district has grown over these years and is trying to stay on the cutting edge of providing the best for our students and patrons. I wish to continue helping our school district grow, move forward and be progressive."
Adamczyk was the Primary School Principal for 21 years and has been a school board member for the last 12 years. He and his wife, Robbien, have been married for 46 years and have two sons. David and his wife Lindsey have two daughters, Lexie and Loren. Joshua and his wife Dawn have two children Brooklyn and Jaxon. His leisure time activities include: Traveling with his wife, is a special activity; golfing several times a week keeps him healthy; fishing and hunting are great outdoor activities and reading a good book is a must.
Deenia is serving her third term on the R-III Board.
"I have been an active member of the Pleasant Hill School Board for the past four years. My knowledge in educational leadership, personal experiences, and invested interest in the success of all students will continue to provide the Board with guidance in supporting policies for the betterment of our students and staff."
Hocker is the Director of Special Services with the Holden R-III School District. She and her husband, Clay have two children, Hanah a senior at PHHS and Hayden, a sophomore at PHHS. She is a member of the Pleasant Hill United Methodist Church and Alpha Zeta Omicron. She enjoys spending time with family and friends; playing golf and relaxing at the lake.
---
Travis Ross
Term expires April 2024
Travis is serving his third term on the R-III Board.
"I would like to serve on the R3 Board of Education as I feel I have experience that can be useful in strategizing for building and contracting needs, and very interested in supporting our teachers and staff with what they need to make the classrooms / buildings a place where students and staff can both thrive."
Ross has been an electrician with Eldecon, Inc. for 23 years, own and operated Travis Ross Renovations and general contractor for the Federal Home Loan Corporation. He and his wife, Laura have 5 children. He enjoys going to the lake with his family, hunting, fishing and attending the many activities his children are involved in.
---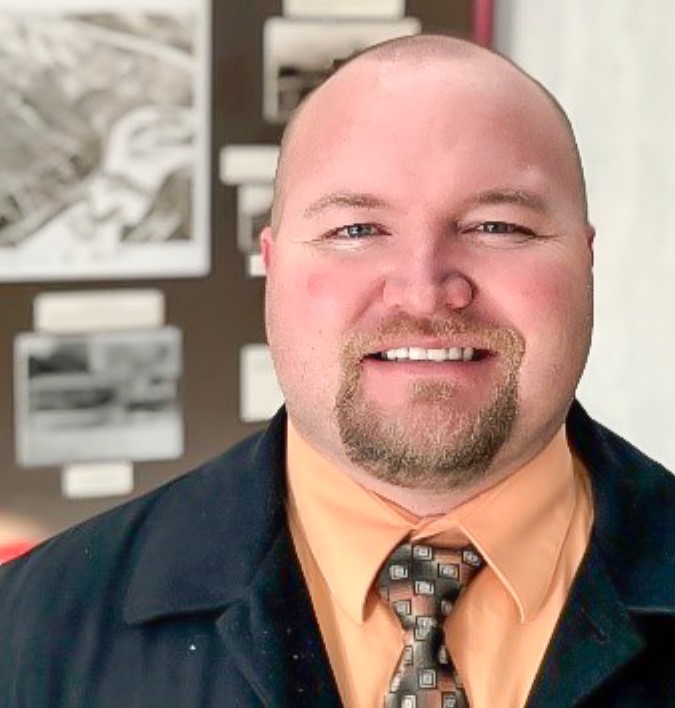 "I believe that investing in our schools is one of the best things we can do as a community. Not just financially, but giving your time to ensure our children are afforded the best opportunities and learning experiences is something we should all try to take part in. I'm running for the board because I want to serve and support the students, teachers and administration so our community continues to be one of the best places to raise a family."
George is married to his wife, Jessica. They have two sons, Kordell and Parker. He has been involved in the Community by serving on the Board of Directors for the Youth Football Association. He is an Associate Vice President at Baker University. He enjoys hunting and fishing with his family as well as attending his sons' extracurricular activities.

Lisa Vescovi
Term expires April 2023
"I have been passionate about public education for over 20 years. I earned a bachelor's degree in education, taught in the Blue Spring school District and in the Pleasant Hill School District before opening the child development center in 2009, and I have three children in the school district. After observing my husband's 8 years of service during his time on the board, I became very interested in the important work our Board of Education engages in. I want to serve on the board and continue the work that has been started to help make our school district a place where all students are provided a high-quality education."
Vescovi is a former educator in the district and she has children in the district who are involved in performing arts and athletics. Her children are Savanna (PHSD graduate), sons: Jackson 16, Jasper 14 and Jagger 9. She owns and operates two businesses in town: Kidz, Inc and Guidos Pizza. She enjoys spending time with family at the lake, playing golf, growing future softball players and watching the boys participate and perform in all of their extra-curricular activities.